The #ActiveForLife Stories – Rani Patel
How important a role does water play in helping one stay active for life? To answer this question and to celebrate the importance of an active life through water, Alkalen is interviewing online fitness lovers and people that live an active lifestyle.
Rani Patel's #ActiveForLife Story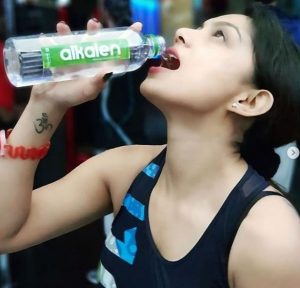 This week, Alkalen had a conversation with Rani Patel, winner of The Fast & Gorgeous 2, fitness blogger, model and actress (movie – Gulab Gang).  And Rani gave us a quick run through of her routine, tips and strategies for staying #ActiveForLife.
Since Alkalen is all about achieving better health through better food and drink, Rani started off by telling us that her daily calorie consumption depends on her target. And her target is usually how she wants to look in the next 10 days. Based on this target, Rani changes her diet and so her calorie consumption per day can be anywhere between 500 to 2000 calories per day.
Trivia:
A 500-calorie is a very low-calorie diet, also known as VLCD (guess why), which usually employs meal replacements like drinks, shakes and prepared food bars.
Being a person who's passion and profession demands consistent workouts, Rani is well aware of the importance of the hydration to replenish water lost through sweat. Being inspired by the popular saying "Health is Wealth", Rani since spends her days going to the gym for 2 hrs, doing weight training, functional training, yoga, cardio and adjusting her routine according to her ever-evolving goals.  
On being asked about what her advice was to help people to get #ActiveForLife, Rani simply said:
"My advice for everyone is stay healthy, stay fit. Drink your water properly, because our body is made up of at least 70% of water. If you want your body to work properly you have to drink water on time, everytime."
Alkalen wishes Rani all the very best in her pursuit of staying #ActiveForLife☺.

If you have such interesting stories of how you like to stay #ActiveForLife, tell us in the comments below or write to us at [email protected] We are always open to learning new ideas and to motivate people through stories that lead them towards living healthy, fit and active.