The #ActiveForLife Stories – Prathmesh Mistry
How important a role does water play in helping one stay active for life? To answer this question and to celebrate the importance of an active life through water, Alkalen is interviewing online fitness lovers and people that live an active lifestyle.
Prathmesh Mestri's #ActiveForLife Story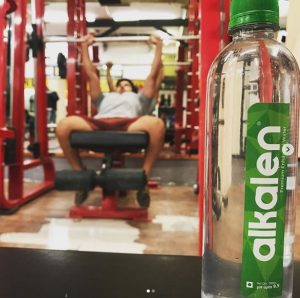 Next on our #ActiveForLife series, Alkalen interviewed popular fitness trainer and a musclemania top 10 model on instagram – Prathmesh Mestri. On asking him how he goes about staying active in life, Prathmesh said he starts his day with a good protein breakfast to keep him energized throughout the day.
When Alkalen asked him what inspires to stay active, Prathmesh said that he's his own inspiration, since he strongly believes that in order to stay active, you have to always strive to be a better version of yesterday. Incidentally, this idea echoes a popular Japanese philosophy called 'Kaizen', which means "change for the better" and that's all about daily improvement. Prathmesh's outlets for activity happens to be football and swimming, when he's not working out at the gym. As for when it comes to his daily water intake to compliment his day full of activity, Prathmesh says that water doesn't just help with the hydration and keeping his body from tiring easily during workouts, but that it also helps him with digestion, keeping his bowels clean and skin clear.
When Alkalen asked Prathmesh to share advice with others on how to stay #ActiveForLife, he insightfully said that –
"…Nothing comes in easy if you want something. So if you are struggling with something, don't give up because achieving something is better than achieving nothing. It's the same with  fitness, most people give up because they don't see results quickly, but what they don't realise is that the change is slow and will start to show up slowly…"
Alkalen wishes Prathmesh Mestri all the very best in his pursuit of staying #ActiveForLife☺.
If you have such interesting stories of an active life, tell us in the comments below or write to us at [email protected] We are always open to learning new ideas and motivate people through stories that lead them towards an active life.